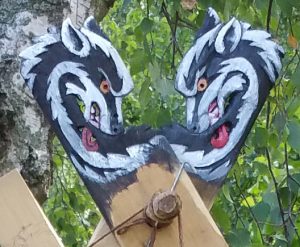 These are the places where I or my beads expect to show up, please note that the beads in the webshop migth not correspond with what I bring so please, if there is something special you want me to bring, please contact me!
I am also one of the permanent artisans at Hantverksgalleriet in Västra flygeln at Karby Gård so if one has the way passed Täby during a weekend, it is worth checking out!
2021
4-5 September was fall market at Gunnes Gård. We had glorious weather and a great time!
11 September Runrikets dag by Jarlabankes bro in Täby.
30-31 Oktober Medeltidsmuseets höstmarknad.
The weekends of December my beads and the gnome army will decend into hantverksgalleriet at Västra Flygeln at Karby Gård. Open all Advent weekends, 12-16.
2022 (preliminary)
first weekend of september  Fall market at Gunnes Gård usually open saturday september 11.00-17.00 and sunday 2 september 11.00-16.00.
Stallarholmens Vikingamarknad I'm usually there but since I sail I don't bring a market stall.. however I usually have my beads so of you can find me there are beads :). I usually camp by the boats and belong to the crew of Viking Plym.