My beadmaking workshop is located in Täby about an hours drive north of Stockholm (Sweden).
It is a modern workshop – I work on an oxy-propane torch and anneal the beads in a modern oven, this is to ensure both quality and durability.
I mostly do flamework in softglass (mostly from Effetre) and borosilicate (Trautman), sometimes with inspiration from the Viking period but also a lot of fantasy, dragons and animals. I can fuse and I can also Batch anneal.
I often do requests and can arrange beadmaking demonstrations, however I do not usually teach courses since I do not have the equipment or workspace for teaching groups and having several people torching at the same time.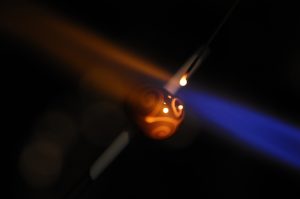 Spara
Spara